FACILITIES
Comprehensive Facilities Featuring Large Baths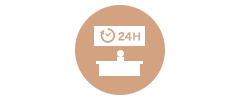 Front Services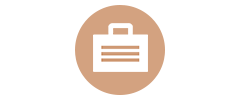 Baggage Services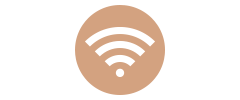 Free Wifi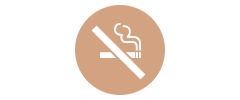 Non-smoking
"Misaki-no-Yu" Large Baths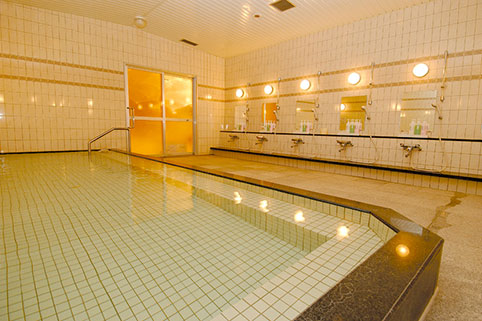 Misaki-no-Yu Large Baths feature bathing in true Japanese style. Stretch out your legs in a wide bath tub filled with Ishigaki Island herbs, and spend a peaceful and relaxing time recovering from your travels.
Hours
6:00 - 10:00 14:00 - 23:00
Separate baths
for men and women
Indoor bathing only (This is not a hot spring.)
You can enjoy various types of bathing experiences: Lemon Grass Bathing: March – May; "Chomeiso Bathing" – baths filled with "chomeiso" herb or coastal hogfenne (Peucedanum japonicum): September – November; "Shikuwasa Bathing – baths filled with thin-skinned flat lemon, native to Okinawa: December – February.
Shopping Area
The shopping area offers an abundance of souvenirs popular in Okinawa and Ishigaki Island, including specialty products of the island and "Minsa Weaving" which uses traditional textile of the Yaeyama Islands.
Hours/6:30 - 21:30
Swimming Pool
Surrounded by Ishigaki Island trees and shrubs, the hotel's private pool features a calm and relaxing atmosphere. The restaurant looks out onto the pool, so both adults and parents with small children can use it with peace of mind. It presents a fitting environment for a fun and comfortable resort vacation on Ishigaki Island.
Hours/9:00 - 17:00
Tour Desk
If you wish to have a great time touring Okinawa or Ishigaki Island and the outlying islands, you can leave everything up to the Tour Desk in the hotel. It's there to help you with all the necessary arrangements.
Hours/7:00 - 18:00 (May change depending on prevailing circumstances)
Rental Cars
Renting a car is a very convenient way to enjoy all that Ishigaki Island has to offer. You can even start seeing the sites right after leaving Ishigaki Airport.
Regular hours/8:00 - 20:00
Telephone inquiries: +81-980-84-4123 Nissan Rent-A-Car, Ishigaki Airport Office
Other...
Welcome Drinks (jasmine tea, "Shikuwasa" (thin-skinned flat lemon, native to Okinawa) juice, Ishigaki Island "Awamori" Okinawan liquor
Massage Reception
Launderettes
Vending Machines
Internet Booth
Smoking Booth
Baby crib and buggy (upon request)
RESTAURANTS
Delicious Cuisine Prepared with Ishigaki Island's Outstanding Ingredients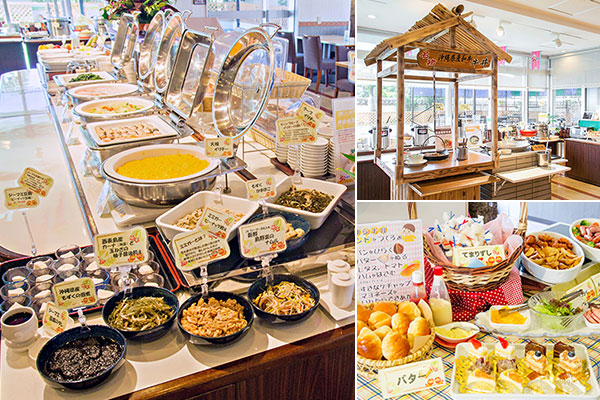 BREAKFAST
Enjoy a smorgasbord of Japanese and Western regional dishes featuring menus based on Okinawa and Ishigaki Island's ingredients and concept of local production for local consumption.
| | |
| --- | --- |
| Restaurant | Toreador |
| Hours | 6:15 - 9:30 |
Lunch, Dinner
Toreador


Breakfast/6:15 - 9:30
Lunch/11:30 - 14:00
Dinner/17:30 - 21:00(last call)


A casual dining restaurant with a wide, open floor and Ishigaki Island's unique menus.

Satsuki


-Yaima Home Cooking Restaurant
Lunch: 11:30 -14:00
Dinner: 17:00 -23:00

(last call 22:00)




The always-lively, Japanese tavern-style cozy ambience is well liked by local residents.

Gettoan


-Ishigaki Beef Teppanyaki
Lunch: 11:30 - 14:00
Dinner: 17:30 -21:30
Close: Sunday


Here you can savor the taste of Ishigaki Beef and Yaima Beef, raised in the abundant natural environment of Ishigaki Island, grilled teppanyaki-style on a hot steel plate in the center of the table.

Cattleya


-Tea Lounge
Hours: 10:00 - 17:30


Spend some relaxing time sunk into a large, soft sofa.